alright im sure almost everyone has seen this card by now but eh. why not post about it >.>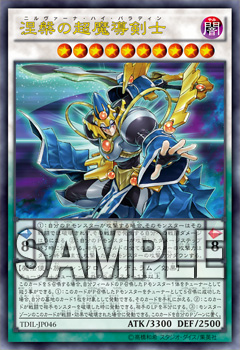 Pendulum Effect
   If a Pendulum Monster you control attacks, it cannot be destroyed by that battle, also you take no battle damage from that attack. At the end of the Damage Step, if a Pendulum Monster you control attacked: All monsters your opponent currently controls lose ATK equal to that monster's current ATK until the end of this turn (even if this card leaves the field).
Monster Effect
   1 Tuner + 1 or more non-Tuner Synchro Monsters
   For this card's Synchro Summon, you can treat 1 Pendulum Summoned Pendulum Monster you control as the Tuner. If this card is Synchro Summoned using a Pendulum Summoned Pendulum Monster as the Tuner: You can target 1 card in your Graveyard; add it to your hand. When this card destroys an opponent's monster by battle: You can halve your opponent's LP. If this card in the Monster Zone is destroyed by battle or card effect: You can place it in your Pendulum Zone.
------------------
ok off the back i can say myself. this card is rediculious. halve your opponents LP by simply destroying a monsyer by battle (note this monsters a 3300 beater >.>). get ANY card from the grave to the hand and all ya need to do that is just simply using a pendulum tuner :/. now some might say "oh but the summoning condition" let me tell you this. thats actually prety dam easy to summon xD. i know for a fact with my blue-eyes i can summon this card with a 2 card combo. some decks might not be able to summon it but other decks like pendulums that focus heavily on syncro plays could summon this level 10 easily. the pendulum effect dosent seam that bad until you bring in like the higher attack pendulum monsters. than its just dumb. also the other effect that lets it treat a pendulum summoned pendulum monster as a tuner basicly says. "OH LETS SUMMON ANOTHER ONE

". and the fact NONE OF THESE EFFECTS are once per tun is just dumb :/. well yes its the first syncro pen so some might have espected it to be strong but this is just uncalled for. and when its destroyed ya put it in the pen scale. as espected but remember theirs cards that we have that can bring monsters FROM the pen scale to the field. konami put down the dam crack pipe >.>
alright thats my thoughts on the card. why dont you guys post yours below. would love to read them
_________________

#NUBSQUAD